Is your skin dry, sallow and dull? It needs strong support, meaning skin care focused on deep moisturizing. A rich, nourishing body cream can provide that. Choose Maltese Honey Body Cream from Ghasel!
The secret to beautiful skin – honey-based body cream
Honey is still the undisputed leader in the care of dry and rough skin. This powerful moisturizer is also responsible for the suppleness and resilience of the skin. If your skin feels rough, dry and lacks elasticity, it's time to act now! Wrong skin care or lack of it, results in wrinkle formation. How to prevent this?
A good body care product is the secret to beautiful, perfectly moisturized and youthful-looking skin. Ghasel offers a Maltese honey-based rich nourishing body cream with strong moisturizing properties, needed by our skin.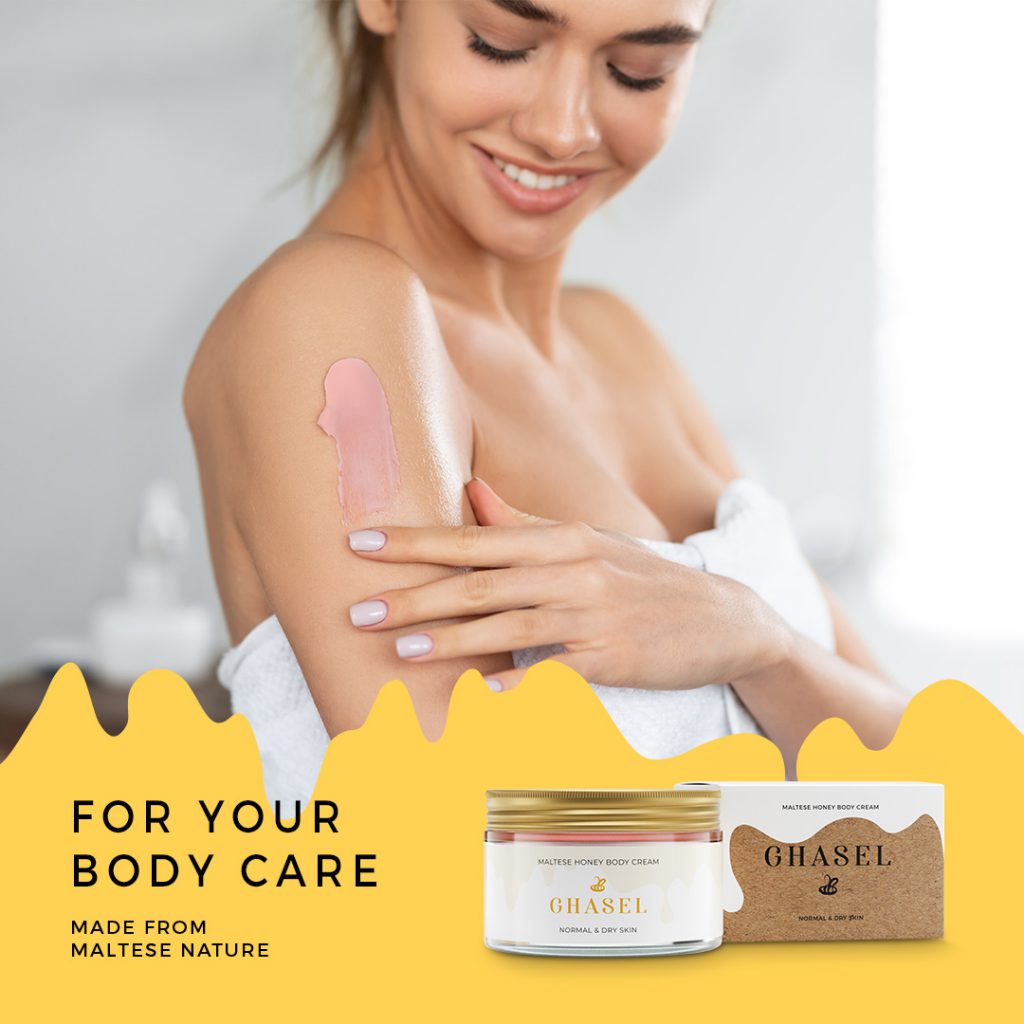 Ghasel: the best moisturizing body cream
There can be only one champion. Maltese Honey Body Cream is the best moisturizing body cream. It delivers perfect results, its formula is refined to the smallest detail and works even for severely dry skin. The main benefits of Ghasel moisturizing body cream are:
simple formula free of unnecessary additives,
plenty of natural ingredients,
unique Maltese honey, one of the best kinds of honey in the world,
light and quickly absorbed formula,
strong moisturizing properties.
Honey-based body care
What else you should know about this product? This body cream hides many surprises! The biggest one is its unique formula. Let's take a closer look at the ingredients:
Maltese Honey Body Cream from Ghasel – ingredients
– Maltese honey
Soothes and regenerates the skin and provides maximum hydration. It increases comfort immediately after application, eliminating dry and rough skin. Its antibacterial properties reduce irritation.
– Shea butter
An emollient that acts as a lubricant, protecting the skin from moisture loss. It leaves the skin feeling soft and smooth.
– Avocado oil
The best oil for problems with dry skin! The vitamins it contains condition the skin and strengthen the natural hydrolipid skin barrier.
– Calendula extract
This extract is a perfect ingredient for dry and damaged skin. It has softening, nourishing and moisturizing properties.
– Horse chestnut extract
Promotes skin regeneration, prevents cellulite and stretch marks and improves suppleness and blood circulation.
Maltese Honey Body Cream – results
Thanks to the top-quality ingredients, Ghasel Body Cream:
improves hydration and prevents dryness in a flash,
smooths and leaves the skin velvety soft,
prevents signs of aging,
improves elasticity and skin tone,
boosts a radiant glow,
soothes irritation and delivers soothing relief.
Check out Ghasel honey nourishing body cream at www.ghasel.mt and order online with home delivery.
Wyświetl ten post na Instagramie