Reactive skin wants us to be super gentle with it. Why is that? Simply because it's far thinner and more sensitive to external aggressors and often completely harmless irritants than oily, combination or normal complexion are. To relax and protect it from developing a reaction, we have to be mindful and choose the right cosmetics and treatments.
Redness-prone skin seems to be a growing concern of women and men worldwide. It's more common for those with pale complexions and fair hair. However, it's not the rule because this skin type is mostly determined by genes. What's interesting, skin is able to change its type due to hormonal contraception, foods we eat regularly or weather conditions.
What can help you relieve skin irritation and reduce redness?
It's also common for the skin to change its type while you age, as a result of a lifestyle you lead or the treatments you use. Sadly, in most cases this contributes to aggravation of skin concerns. So what should you do on a daily basis to relieve couperose skin that is prone to redness? For example, you can:
drink at least 2 liters of mineral water per day
use creams with SPF on a daily basis
cut down on eating spicy foods
apply only mild cosmetics and cleansers
use Nanoil Anti-Redness Face Serum regularly
What does Nanoil Anti-Redness contain?
This soothing face serum proves itself to be perfect for reactive skin for a couple of reasons. The most important are the ingredients, obviously. In Nanoil Anti-Redness serum you won't find any unnecessary fillers, alcohol or aromas. Instead of being made up of some dodgy substances, the serum contains as much as 4 plant extracts, selected and combined specially for those concerned with skin irritation and redness. Owing to these naturally-derived ingredients, Nanoil face serum nourishes, soothes, protects and moisturizes reactive skin.
What's interesting, the list of naturally-derived extracts is longer because Nanoil Anti-Redness Face Serum also contains a plant-based antioxidant taken from a plant growing in Asia. Punarnava – because that's the antioxidant – combats free radicals and deals with the adverse effect of oxidative stress. This means that it prevents ageing.
This unique formulation for sensitive skin wouldn't be complete without mighty chestnut bark extract. This substance aims at the walls of blood vessels, making them stronger and more elastic. And this is basically how Nanoil Anti-Redness Face Serum eliminates and prevents vascular lesions.
What are the benefits of using Nanoil Anti-Redness Face Serum?
Regular use of Nanoil face serum for reactive skin gives nothing but benefits. Once you start applying the serum on a day-to-day basis, it will:
make your skin less reactive to external factors
soothe skin irritation
strengthen the walls of capillaries
reduce spider veins
refine skin's texture
provide protection
delay skin ageing
As it's easy to see, Nanoil serum offers a wide range of benefits, aiming at a few skin concerns at the same time.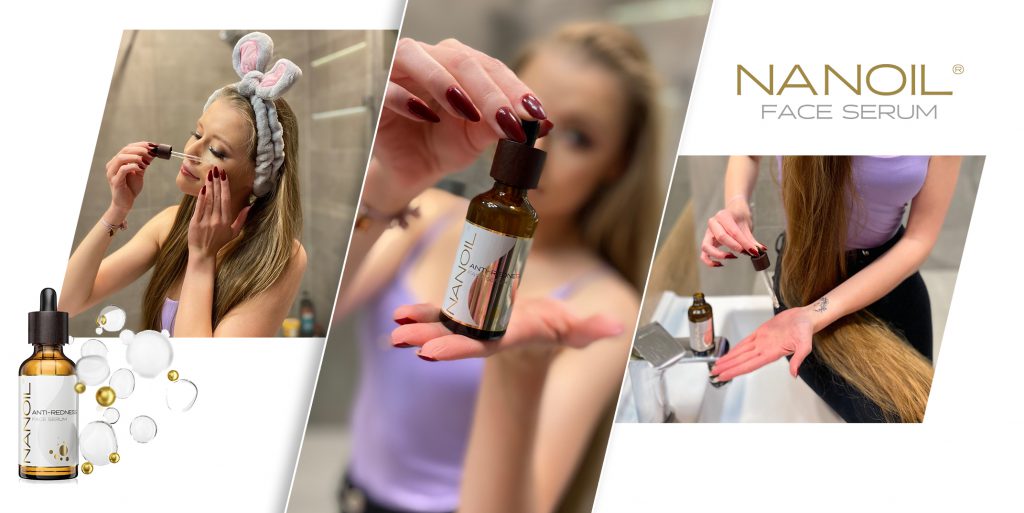 Is Nanoil Anti-Redness Face Serum designed just for sensitive skin?
By looking at the list of ingredients and analyzing the effects they have on skin, it becomes obvious that Nanoil Anti-Redness Face Serum isn't designed just for sensitive skin. It works for all skin types because it's gentle and rich in nutrients, and that's why everybody can introduce Nanoil Anti-Redness serum to their regular skin regimen.
It's also worth realizing that Nanoil face serum is water-based, not oil-based, which is another reason why it's perfect for every skin type. It's lightweight and penetrates quickly, without leaving any oily feel on the face. This also means that Nanoil serum can be applied even a few times a day. And the application is easy. Since the product comes with a dropper, you can put the serum on the face straight from the bottle.
It's crucial not to skip neck and chest area, especially after realizing that there is plenty of product in a bottle. If you do this, you will deliver nutrients to all skin areas that are exposed to the sunlight and external aggressors.
If you want to find out more about Nanoil Anti-Redness Face Serum, or order it, go to nanoil.us.