It's hard to imagine a good hair routine without a hair mask, especially if your main goal is to repair and strengthen your strands. In this situation, a hair mask seems to be crucially important because this product is proven to deliver the strongest effects. It would be even better if a hair mask was formulated with special ingredients such as keratin. How do keratin hair masks work? Which ones are worth using? We're checking this out!
How To Take Care of Damaged Hair
There is nothing more demanding in hair care than reversing damage. It's far easier to do harm than fix it – just too much flat ironing, no sun protection or pulling on hair while brushing. As far as repair goes, you need to turn to the hair products that do both: deliver a deep treatment and aim at particular hair problems.
To get the best results in reviving damaged and frazzled hair, use a reconstruction hair mask. It's suggested applying this product every 2nd or 3rd hair wash, e.g. every week, and use the mask regularly because in this way you can eliminate the adverse effect of the wrongs you have done to the hair. Provided that the mask contains the special ingredients, of course.
Most common substances found in products destined for damaged hair are proteins, ceramides and vitamins. This means that such products contain ingredients that repair and reconstruct the hair as well as the substances responsible for reviving and replenishing hair with nutrients and water. Undoubtedly, the best effects are produced only by do-it-all cosmetics. Still, the undisputed king of hair repair is keratin, and therefore it's a good thing to know this protein better.
Keratin and Its Benefits for Hair
What is keratin? It's a protein. But not just any random protein! Human hair is built from this inconspicuous substance, which means that every type of damage is easier to repair using keratin. In short, keratin is a building block of hair.
That being said, it should be no surprise that keratin hair repair treatment actually makes a lot of sense and is the best way to reconstruct damaged and frazzled hair. If you use the right form of keratin, which is hydrolyzed, it would be easier for this protein to penetrate hair. In other words, if you treat your hair with a hydrolyzed keratin product, you can be sure that it will
repair damage caused to the innermost structures of hair
strengthen and improve resilience of every single strand
smooth out and add more body to the hair
Which Keratin Hair Mask Should I Pick?
Here are five products that rightfully carry the title of the best keratin hair masks. Naturally, their success is owed to something more than just the keratin content. It's time to get to know the red-hot keratin hair masks – perfectly developed to repair and reconstruct damaged and over-processed strands.
Which one will you choose?
No. 1. Hair mask Nanoil Keratin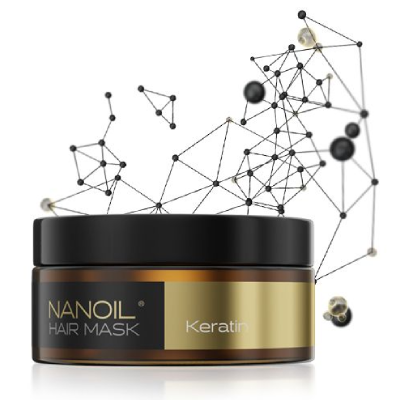 The winner of every battle of the best cosmetic destined for damaged hair – Nanoil and its top hair product. This is a hydrolyzed keratin-rich mask that brings superb effects also thanks to panthenol and weightless, non-overburdening silicones. The texture is creamy, easy to spread along the strands and doesn't weigh hair down. On top of that, Nanoil Keratin Hair Mask leaves hair smelling amazing, and this effect lasts really long.
The most important though is how Nanoil mask works on hair. The one formulated with keratin is destined for dry, damaged, frazzled, brittle and splitting hair. It's proven to reinforce, reconstruct broken bonds, improve resilience and leave hair gorgeously-looking. Just one treatment suffices to reveal smoother hair, resistant to frizz and easy to detangle. The more you use Nanoil Keratin Hair Mask, the better your hair looks, which is one of the reasons why hair stylists recommend this keratin hair mask.
For more information visit – www.nanoil.us
No. 2. Keratin mask Global Keratin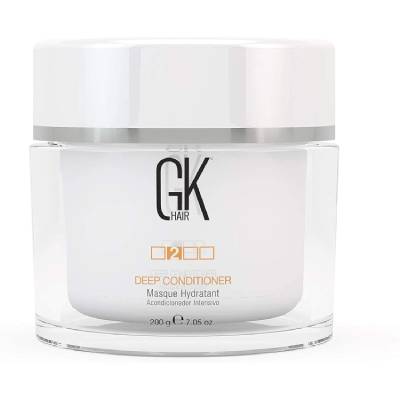 An interesting offering belongs to the Global Keratin brand. If you take a closer look at the name of this product, you will see that it's actually a conditioner. Despite having a misleading name, this product ensures deep nourishment, which is owed to keratin and Juvexin complex – a blend of peptides and vitamin. Sadly, the creamy and pretty heavy texture has one downside – the contents of the small packaging runs out faster than we think it would.
This is definitely one of the costliest hair masks included in this list, so the effects it delivers should make up for such an investment. Is it a cost-effective hair mask? You must assess the results yourself. It's suggested using this mask for hair steaming because under the influence of moist and high temperature, the product penetrates hair deeper. It moisturizes, softens, smooths out and adds shine to strands, improving hair's resistance to damage. To sum up, hair repair treatment offered by Global Keratin Deep Conditioner brings fairly satisfying results.
No. 3. Damage repair mask Arganicare Keratin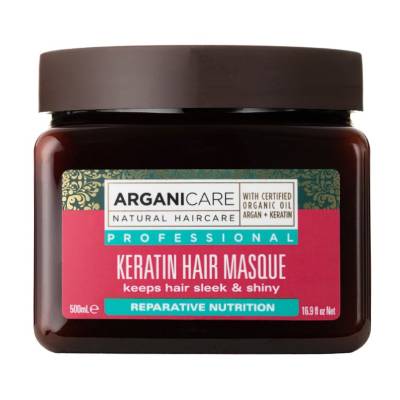 At the bottom of the podium a mask whose name including "argan oil" may attract the potential customers. Obviously, argan oil isn't the only ingredient used in this product. The Arganicare's offering is a combination of argan oil, grape seed oil, betaine, panthenol and keratin, which definitely seems to be a real treat for those who like rich masks. On the flip side, rich composition often goes hand in hand with a heavy formula.
It's recommended reaching for this mask when the hair is dry and damaged, but most of all when it's deprived of shine. It's good at moisturizing, nourishing and taming unruly hair. Additionally, this product is also suitable to be used as a repair treatment, however, it must be realized that Arganicare Keratin Hair Masque should sit on hair no longer than 5 minutes, which doesn't suffice to provide deep hair reconstruction treatment. Still, this is one of the top-rated keratin hair masks.
No. 4. Hair mask Phytokeratine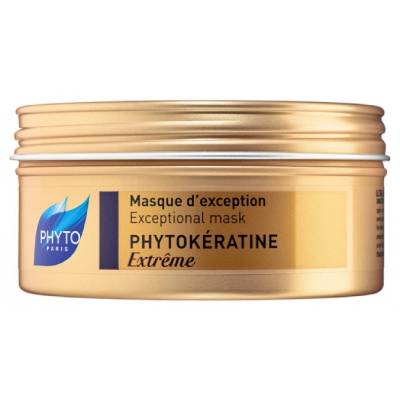 Another hair mask currently belonging to the red-hot hair products is the Phyto product, marketed for being able to reconstruct broken bonds in hair. Despite containing proteins, we wouldn't call it a regular keratin mask. Phytokeratine Extreme hair mask contains 18 biomimetic amino acids that together create something whose function and structure resembles keratin that our hair is made from. Apart from this, the product includes: shea butter, sapote butter and baobab oil.
This product is recommended for fine, dull, dry and damaged hair, but it can be applied to all hair types. It provides nourishment, smooths and softens the hair without irritating the scalp, even sensitive. If you're looking for a good keratin hair mask, Phytokeratine Extreme should work just fine, especially for those who are patient because it takes a little bit longer to see the effect of repaired hair.
No. 5. Mask Kerastase Extentioniste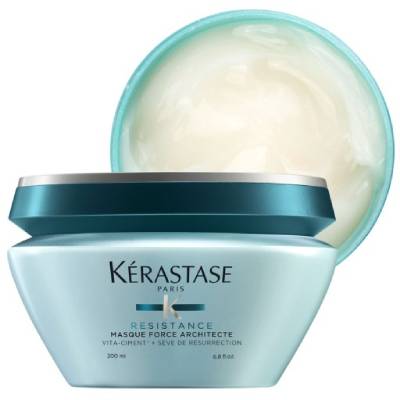 Lastly, a hair mask launched by Kerastase, a hair brand that belongs to L'Oreal. Like all the products mentioned above, this one also contains keratin that penetrates hair deeply to provide repair, as well as ceramides and maleic acid responsible for smoothing out raised cuticles, thus ensuring sleek hair. Although this is one of the costliest hair masks, it's also one of the most interesting in terms of the formula. Still, it's used more in hair salons.
When used on a regular basis, Kerastase Extentioniste is proven effective in providing a repair treatment to frazzled strands. It's mostly recommended to those who want to have long, strong and lustrous hair but now have brittle strands with splitting ends. This hair mask has to be applied post-shampoo to towel dry hair. It has to be rinsed after a few minutes. The downside is the small size.