A hydrating cream of the highest quality: Ghasel maltese Honey Face Moisturiser
Are you struggling with skin that lacks vitality and glowiness? Ghasel Maltese Honey Face Moisturiser is a powerful hydrating cream for day and night use that will quickly nourish your tired skin.
Maltese honey is the most desired hydrating component. This special delicacy is famous for its anti-aging properties, a set of vitamins and minerals as well as bioelements, that regenerate even the most extremely dry skin.
Choose Ghasel Maltese Honey Face Moisturiser
It's a true best-seller in the cosmetics industry. It contains up to 85-90% of thyme pollen which makes the cream irreplaceable in fighting against skin imperfections. The subtle scent not only regenerates the skin, but also relaxes it.
The excellent composition of carefully selected ingredients was designed for morning and evening routine by those of every skin type.
Maltese honey
Unique, intensely moisturizing honey originated in the land of Malta. Its antibacterial properties are used in the care of acne-prone, problematic skin. It enhances the elasticity and the firmness of the skin. What's more, it has smoothing and anti-aging qualities. The skin looks more radiant.
Shea butter
It's a portion of hydration for extremely dry skin. It supports healing irritation, soothes and regenerates tired skin. It also stimulates collagen and elastin production which is responsible for a young-looking complexion.
Caffeine
Caffeine stimulates the skin, so the blood flows better and the signs of fatigue disappear from the face. It's also a natural UV filter protecting from free radicals and oxidative stress.
Sage leaf extract
Tightens large pores, reducing the amount of blackheads. It regulates sebaceous glands, so the skin stops looking excessively shiny. Moreover, it cleanses and tones the skin.
Green tea leaf extract
It's commonly used in the care of impure, oily and acne-prone skin. It regenerates and tones, inhibits the development of inflammation, improves the color of the skin and is responsible for the skin's firmness and elasticity. It reduces the appearance of minor wrinkles and furrows.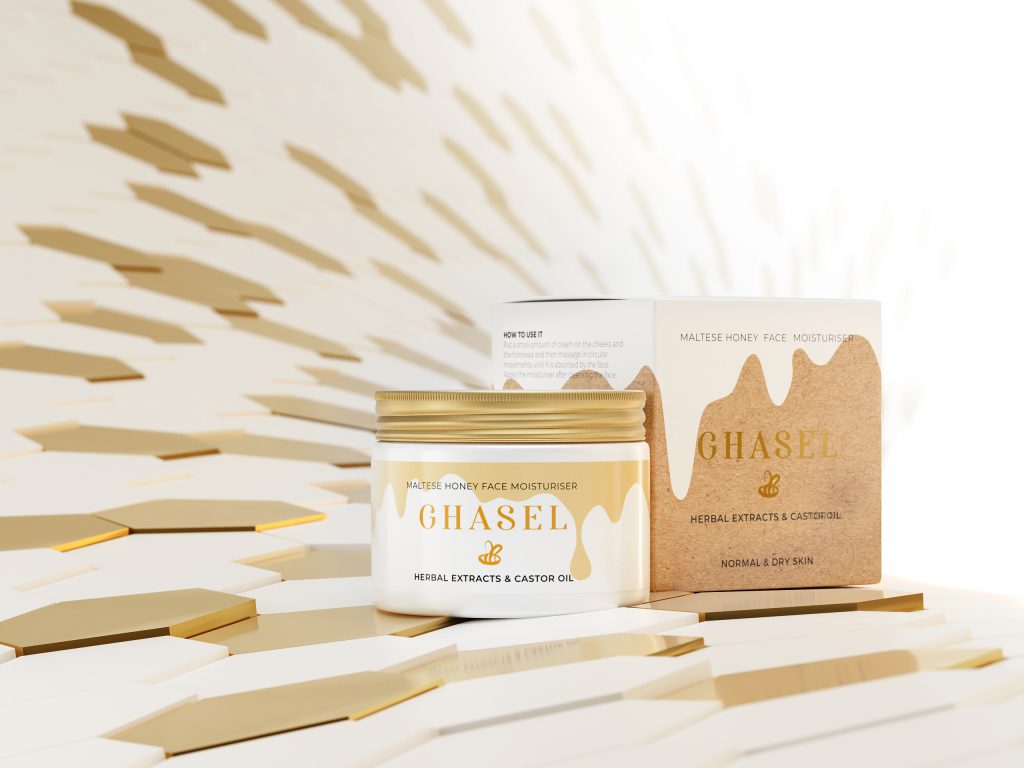 Is Maltese Honey Face Moisturiser worth the hype?
This unique cream will completely change your daily skin care routine. It's designed for day and night use and it enhances the condition of the skin, while improving its regenerative capabilities and protecting from environmental factors. Pleasant smell and the composition rich in vitamins and antioxidants give you a real energy boost.
Best natural ingredients allow the cream to work brilliantly on a day-to-day basis. Vitamins,plant extracts and a number of minerals effectively nourish the skin cells, providing 24-hour hydration. Velvet-like skin texture with no imperfections can become a reality.
Using Maltese Honey Face Moisturiser regularly brings results unbelievably quickly. The product has earned a massive amount of favorable reviews all around the world. Become one of many staisfied consuments and gain beautiful, full-of-vitality skin for a long time! Learn more about the product: www.ghasel.mt.
---