Full and defined eyebrows are the simplest way to correct uneven face proportions, rejuvenate and beautify your appearance. If you want to achieve dream eyebrows, see on your skin how Nanobrow eyebrow serum works. Fall in love with yourself!
After many changes in trend setting (they keep coming and going), the present-day brows should be the most natural-looking possible. They are supposed to be bold, clear, perfectly shaped and colored to match face and play in tune with the entire makeup.
Some of the methods for enhancing eyebrow ridge include regular makeup or long-lasting permanent makeup. What should we do if we want our eyebrows to be on fleek? Then, the best solution is offered by eyebrow serum that will help you redefine, increase thickness and intensify the color of brow hairs.
The unrivaled and top-rated eyebrow serum is the product that you can leave thin and fair eyebrows to.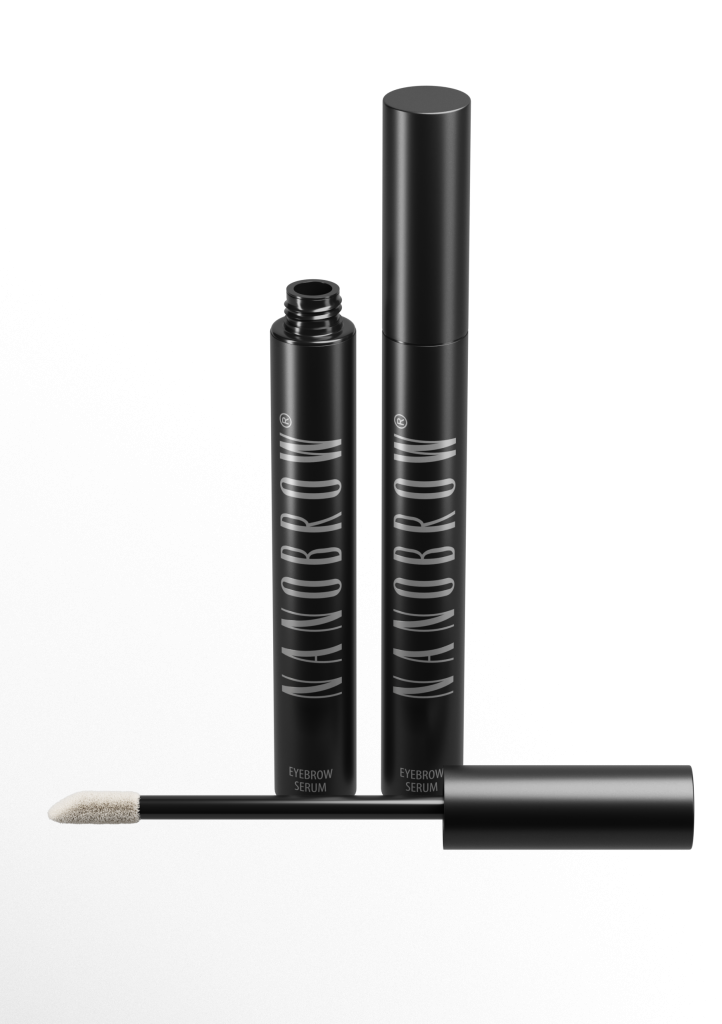 ABOUT NANOBROW EYEBROW SERUM
Size: 5 ml
This is a non-greasy and well-developed eyebrow serum. It has to be applied regularly every day before going to sleep in order to notice dramatic improvement in the look of eyebrows within just 3-4 weeks.
The positive effects that Nanobrow is able to create are credited to well-developed formula. The main tasks are handled by:
peptides responsible for accelerating brow hair growth.
glycerin that maintains hydration.
ginseng that is a potent antioxidant.
Baikal skullcap which reinforces hair.
soy and wheat that prevent eyebrow thinning.
arginine that has a nourishing effect.
provitamin B5 that takes care of eyebrows.
NANOBROW. HOW DOES IT WORK?
When it comes to Nanobrow eyebrow serum, there are three crucial stages of eyebrow boosting that are worth focusing on.
1. Moisturizes, nourishes, regenerates
The first ones to boost eyebrow appearance are the substances responsible for delivering nourishment and hydration. Nanobrow supplies eyebrows with the essential substances required to carry out regeneration processes. The more damaged the brows are, the more time will be needed to restore their good-looks. Therefore, at the beginning Nanobrow eyebrow serum focuses on regenerating, fixing damage and reinforcing each and every brow hair.
2. Beautifies and boosts volume
Another stage is delivering the beautifying effect. Nanobrow eyebrow serum takes care of the brows to let them become more beautiful day by day. The first favorable results that can be noticed are: intensified color, increased gloss and improved elasticity of eyebrows. With time the hairs are getting thicker, you can notice new brow hairs growing on the brow ridge – in general, eyebrows are getting thicker. The final effect that most users wait for is clearly enhanced and bold eyebrow ridge that can be redefined and shaped at will.
3. Is anti-age and protects
Still, Nanobrow eyebrow serum gives you more than mentioned above, providing you use it systematically. Nanobrow also contains protecting substances, which means that it prevents water loss, protects against solar radiation and mechanical damage. Moreover, this eyebrow serum has an anti-oxidative effect which is why the product counteracts premature ageing and eyebrow thinning.
IS IT WORTH BUYING?
Definitely Nanobrow eyebrow serum currently makes the best choice if you care for achieving fast and visible results.
Buy Nanobrow if you: have thin and barely-there eyebrows; notice that your eyebrows are diminishing and fall out; want to enjoy thick eyebrows that are easy to style; are scarred of microblading and looking for some alternative; want to improve your good-looks.
Visit nanobrow.us