What care products should you use on a daily basis when your skin is couperose and prone to redness? This is a thorny issue, bothering those whose skin is easily irritated and feels tight. Is regular face cream a good choice? Or perhaps it would make more sense to use an advanced serum dedicated to sensitive skin recommended by skin specialists?
A surprising fact is that couperose skin is pretty peculiar. It gets even more interesting after realizing that each one of us can suffer from the problems typical of this skin type. No matter if your skin is dry, oily or normal – once it turns couperose, it will react with a burning sensation, itching or redness to external factors such as the sunlight, high/low temperatures, alcohol and even certain beauty products.
How do you know that your skin is couperose? By looking at the way the skin "behaves" on a day-to-day basis, of course. Couperose skin is characterized by symptoms such as:
redness that appears often and is reluctant to disappear from your face.
telangiectasias, i.e. broken blood vessels that show through epidermis.
rosacea, which is skin that flushes or blushes too easily.
hyper-reactivity to the factors that don't bother other skin types at all.
Couperose Skin Care: Best Treatments to Try Out
That being said it becomes clear that taking good care of couperose skin isn't easy at all. That's a fussy type of skin that develops a reaction even to regular cosmetics of good quality.
What should you do? Reach for proven and top-rated beauty products. If a particular cosmetic receives good reviews and is recommended by those who struggle with weak blood vessels and reactive skin on a daily basis, you should consider it as your go-to. In this particular case, which is couperose skin, reaching for face serums should bring the best results. Their light formula and strong effects make this product tailored to the needs of sensitive skin. One thing to bear in mind though is that not every face serum designed for couperose skin is good.
Which Face Serum is Good for Couperose Skin?
Good idea is to check cosmetic rankings – like the one you can see below – presenting the products in an order, where the best and the most effective ones are listed at the top. It doesn't mean though that the products at the end of the list aren't efficacious. They take lower positions due to other reasons, e.g. when they deliver promised results only when used together with other products from the series.
Do you want to know what substances you should apply to couperose skin to keep it healthy and relaxed? Below you'll find a list of the best serums for couperose skin.
NANOIL ANTI-REDNESS FACE SERUM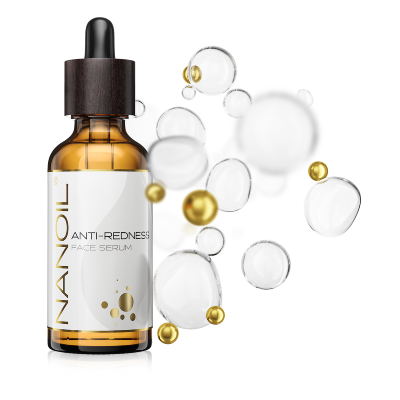 This serum designed for couperose skin is the top-recommended one, no doubts about it. It contains horse chestnut extract that targets and repairs weak capillaries. Other key constituents, which are extracts taken from linden, cypress and Boerhavia Diffusa keep skin away from irritation, dryness and tightness. The pleasant feeling of relief is brought right after use. Yet, the best results are delivered when you apply Nanoil Anti-Redness Face Serum on a daily basis – once a day, at bedtime, to cleansed skin.
For more information visit – www.nanoil.us
FIRST AID BEAUTY ANTI-REDNESS SERUM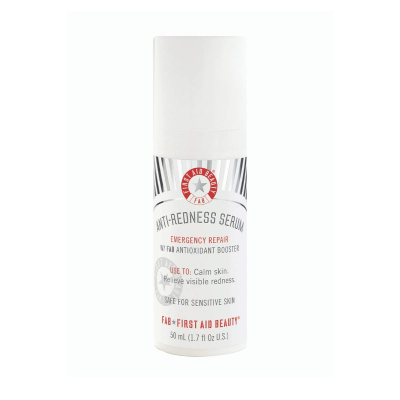 An equally popular face serum for sensitive, redness-prone and problematic complexions. It deals with facial redness and brings relief, and that's why it works amazingly well for those who struggle with rosacea or skin irritation. It's formulated with colloidal silver (argentum colloidale), aloe and ginger extract, and bisabolol. First Aid Beauty Anti-Redness Serum is gentle on the skin because it has no alcohol, no artificial colors, no fragrances and no phthalate. This serum for couperose skin brings truly good effects.
SKINCEUTICALS REDNESS NEUTRALIZER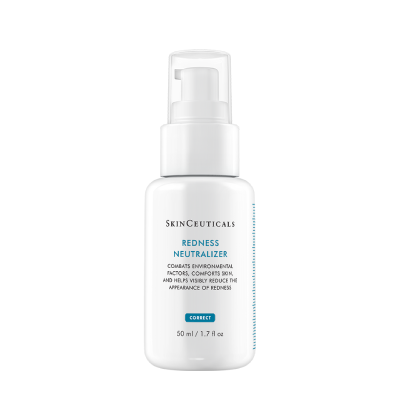 SkinCeuticals has brought out a redness neutralizing product closed in a lightweight cream-gel texture. It's designed for sensitive skin with rosacea symptoms, reddened and irritation-prone. The formula is based on the so-called NeuroMed Complex, which is a blend of peptides and naturally-derived substances (e.g. shea butter, bisabolol). Redness Neutralizer promotes skin's self-renewal process and leaves it relaxed. It's also proven to reinforce skin's defense mechanisms.
DIOR CAPTURE YOUTH REDNESS SOOTHER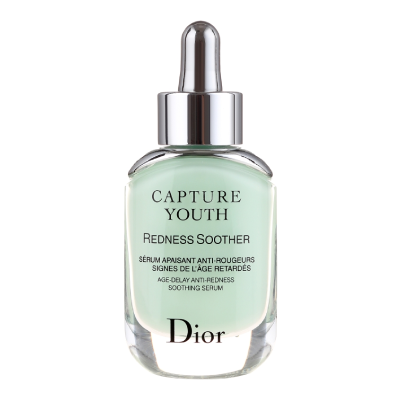 This is one of the costliest face serums targeting common problems of couperose skin. Developed by the experts working for the world-recognized Dior brand, this lightweight face serum offers a combination of the best substances – e.g. iris or cotton extract – combating redness and antioxidants. Dior Capture Youth Face Serum soothes and protects the skin, restores its balance, reduces redness and promotes even-toned complexion. Best results are achieved when paired with a face cream that belongs to the Capture Youth series.
REN EVERCALM ANTI-REDNESS SERUM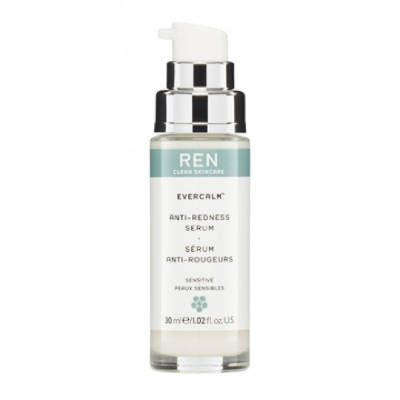 Here is another offering that seems to be ideal for sensitive and even hyper-reactive skin that shows premature signs of aging. Containing hyaluronic acid, Ren Evercalm Anti-Redness Serum moisturizes deeply and increases skin resilience. The plant-derived ingredients such as milk peptides, wild sage inhibitors, are proven to offer a wide range of skin benefits. Pigmentation spots, redness and blemishes disappear so that the skin is relaxed, smoother and clearly better-looking.
LA ROCHE-POSAY ROSALIAC AR INTENSE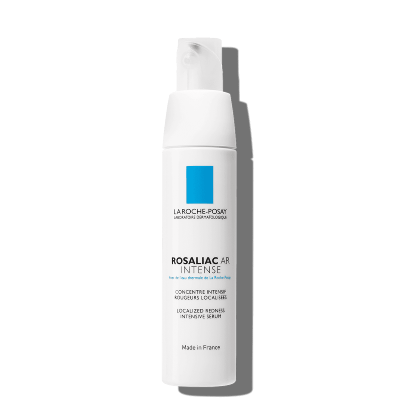 This serum appears to be beauty salon owners' favorite product for spider veins and redness. It's lightweight, gel and completely non-greasy. When used regularly, it calms skin down, minimizes redness and burning sensation, strengthens the walls of capillaries and prevents the appearance of blemishes. These effects wouldn't be so incredible, if it wasn't for La Roche-Posay thermal water and polyphenol-rich plant extracts that this face serum is made up of. La Roche-Posay Rosalic AR Intense makes a good choice in case of sensitive and acne-prone skin.
ORGANIC SERIES ANTI-REDNESS SERUM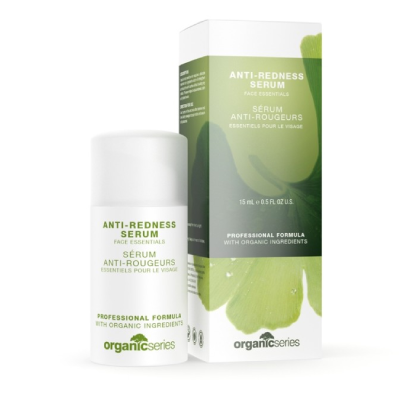 A travel-size face serum designed to cope with problematic skin, including the capillary or reactive ones. It offers a rich blend of plant-derived ingredients extracted from witch hazel, lavender, rosemary, rose, grapevine and ginkgo biloba. Anti-Redness Serum also contains deeply moisturizing hyaluronic acid. With Organic Series Serum you will effectively erase redness from the face, soothe it and moisturize the skin. Blood vessels should become stronger too, provided that you remember about consistent use of this product.
REDBLOCKER REPAIR CONCENTRATE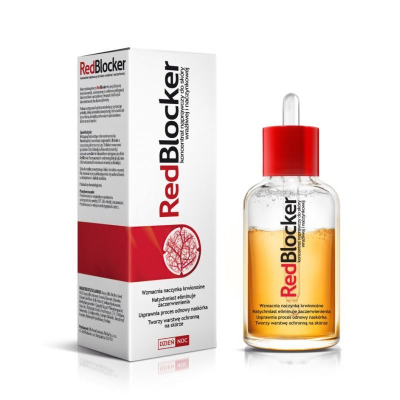 Face serum brought out by RedBlocker belongs to the group of dermocosmetics that are apparently growing in popularity nowadays. Repair Concentrate suits couperose and sensitive skin, and has a two-phase formula that needs to be shaken before use. Being lightweight, this product doesn't clog pores. It promotes self-renewal in skin, soothes irritations, manages hydration and minimizes facial redness. The thing is that these effects aren't quick.