Eyebrows are one of the most important features of the face and have a huge impact on our appearance. Properly defined eyebrows are the key factor of good makeup and a way to add definition to your look. Many women try to improve their shape and make them look thicker and fuller, which is easiest to achieve with a good brow pencil.
Eyebrow pencil – a brow makeup essential
An eyebrow pencil is a type of beauty product that allows you to precisely define and fill in your eyebrows. It is especially useful for owners of sparse and thin eyebrows or whoever simply wants to improve their shape. Eyebrow pencils are available in many shades, so you can easily match them to your hair color and skin tone. Which brow pencil to choose?
A good eyebrow pencil, meaning what exactly?
Which eyebrow pencil is the best? You probably often ask yourself this question and look for the answer online, so we come to the rescue! A good eyebrow pencil should meet several criteria: it should be long-wear, easy to apply, available in many shades, skin-friendly, smudge-proof, and efficient. Just like the Nanobrow eyebrow pencil with an ultra-precision and retractable tip. What else do you need to know about it?
Long-wear: the Nanobrow eyebrow pencil is guaranteed to last for hours – without smudging or wearing off. Planning an intense workout or a big night out? With this eyebrow pencil, you won't have to do any touch-ups at all. Your brow makeup will look flawless for hours to come!
Convenient to apply: this pencil allows you to precisely fill in and define your eyebrows, even if you are not skilled in the art of makeup. You don't need to sharpen it, as it's always ready to use! All you have to do is slide it out of the case. You won't need a separate spoolie to comb your eyebrows. The Nanobrow brow pencil comes with a built-in spoolie.
Well-balanced shades: the eyebrow pencil must be available in multiple shades to ensure you can match it easily to your natural hair color. The Nanobrow eyebrow pencil is available in several well-balanced shades that perfectly match both cool and warm beauty types. You are sure to find a shade to your liking!
Skin-friendly formula: thanks to the plant-based Carnauba and Candelilla wax, the Nanobrow brow pencil has an extremely creamy but long-wear formula that is pleasant for the delicate skin around the eyebrows.
Nanobrow Eyebrow Pencil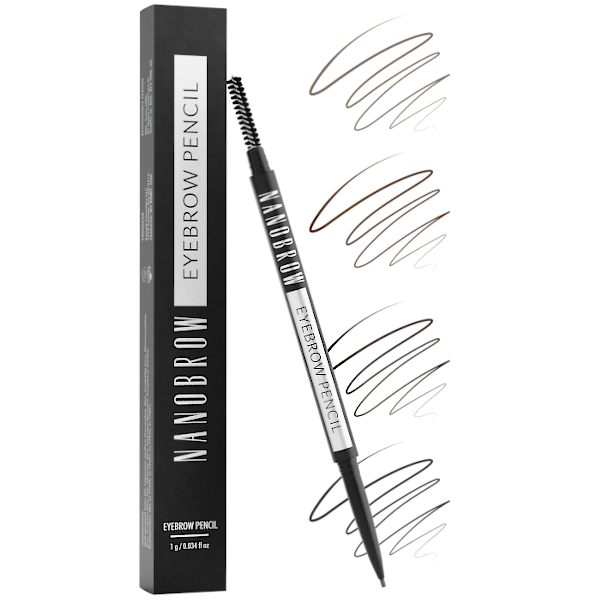 Product available in colors:
Nanobrow eyebrow pencil – why is it worth having?
We know how important eyebrow makeup is and which beauty product to use to make it look perfect all day long. What makes the Nanobrow eyebrow pencil different from others?
It is a professional eyebrow makeup product for everyone.
It comes with an extremely thin tip that allows you to create hair-like strokes.
The retractable tip doesn't require sharpening, and is always just as precise.
The creamy texture glides on smoothly and is gentle even for sensitive skin.
It has loads of positive online reviews, comments, and feedback.
Nanobrow Eyebrow Pencil – reviews
When looking for a good eyebrow pencil, we always pay attention to what kind of reviews and feedback it receives. Here are some reviews of the Nanobrow brow pencil we found online:
"This pencil is super precise, it comes with a tiny tip that doesn't break. It gives your eyebrows a slight shine and keeps them in check. There are several shades to choose from and I think they are quite diverse :)"
"I am a professional makeup artist and I value top-quality beauty products. I no longer use anything else for defining my brows!"
"As a fan of brow pencils, I can confidently recommend Nanobrow Eyebrow Pencil for the right softness of the tip and the fact that I don't have to worry about my eyebrows all day long. It is long-wear and super efficient. It's a must-have!"
Where to buy the Nanobrow brow pencil? You can find it along with the other Nanobrow brow makeup products at nanobrow.us and in renowned beauty stores.