Are you looking for a multi-purpose, vegan, and 100% organic cosmetics? Nanoil Castor Oil is number 1 on my list of beauty essentials.
Nanoil Castor Oil is a natural oil extracted in the cold pressing process from the seeds of the tropical castor bean plant (Ricinus communis). This cold-pressed and unrefined oil contains a multitude of beneficial plant-based substances.
Nanoil castor oil is characterized by:
light but rich texture, full of valuable substances,
100% natural, organic, and vegan formula,
highly moisturizing effect,
adaptation to all skin types and different hair porosity,
multitasking,
antibacterial properties,
richness of active ingredients,
the ability to penetrate the deep layers of the skin.
How does Nanoil Castor Oil work?
The oil contains substances with strong moisturizing, regenerating, antioxidant, and antibacterial effects. Its active ingredients include vitamins A + E, NMF, and EFAs which slow down the effects of oxidative stress, delay the cell degradation process, and maintain the good condition of skin, hair, and nails.
Vitamins A + E – help to smooth out fine lines, slow down the skin ageing process, and neutralize free radicals.
NMF – Natural Moisturizing Factor is crucial in regulating skin hydration level, preventing water loss, and maintaining proper hydration of the skin to keep it moisturised, soft, and firm.
EFAs – Essential Unsaturated Acids support cell renewal, increase production of collagen and elastin, strengthen the protective functions of the skin and rebuild the hydrolipid skin barrier.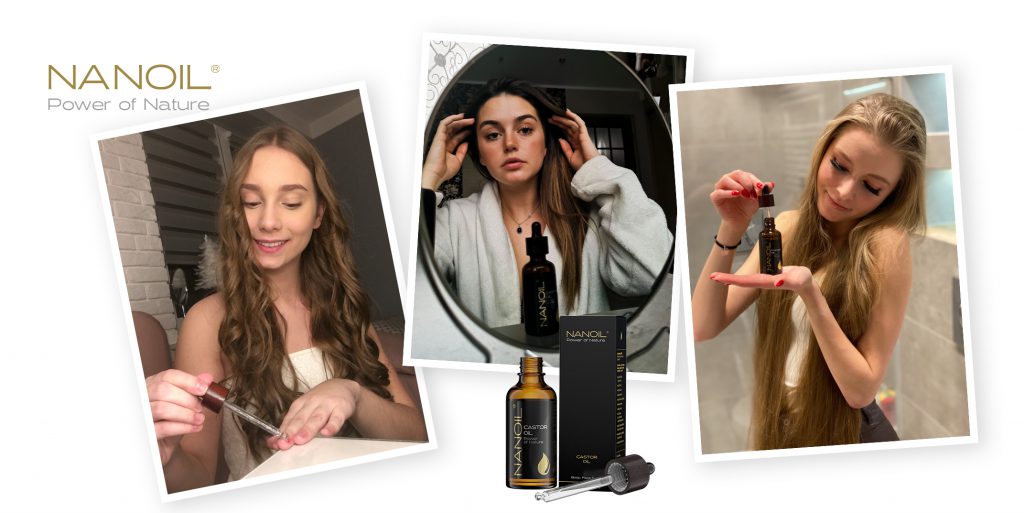 Nanoil Castor Oil – uses
FACE
The Nanoil brand has created a universal product whose formula is beneficial for all skin types. Castor oil is suitable for:
dry and mature skin: effectively moisturises and lubricates without the feeling of heaviness. It gives the skin a healthy, even colour and youthful glow.
normal skin: the oil nourishes the skin from within, boosting its elasticity and healthy skin tone. The skin becomes soft and smooth.
oily and acne-prone skin: ricin has antibacterial and anti-inflammatory properties to cope with problematic skin, eliminating blemishes, discolouration, and puffiness.
HAIR
Applied to the hair is one of the best hacks for quick regeneration. Hair oil treatment is a sensation among hair maniacs who swear by its fantastic results. Applied to the scalp, it helps to combat dryness, irritation and itching, and stimulates the follicles. Use it as a serum to protect the ends from high temperatures and breaking. It can be used on both wet or dry hair.
NAILS
Applying Nanoil to nails restores their healthy colour end prevents brittle nails from splitting. This is a great hack for saving nails damaged by gel manicure or nail extensions.
DIY COSMETICS
Castor oil is a suitable product for the daily full body care. Nanoil castor oil can be used: to prepare hair and face masks, for anti-cellulite massage, to prepare nourishing soak for hands and nails, and as a serum for brows and lashes. You can use it as a base oil for your makeup removing blend and face cleanser.
Nanoil oil is safe for pregnant and nursing women, allergy sufferers and people struggling with eczema, AD, or psoriasis.
Enter the official website – nanoil.us